Anapaya expands team, hires industry trailblazer Dario Colacicco as CPO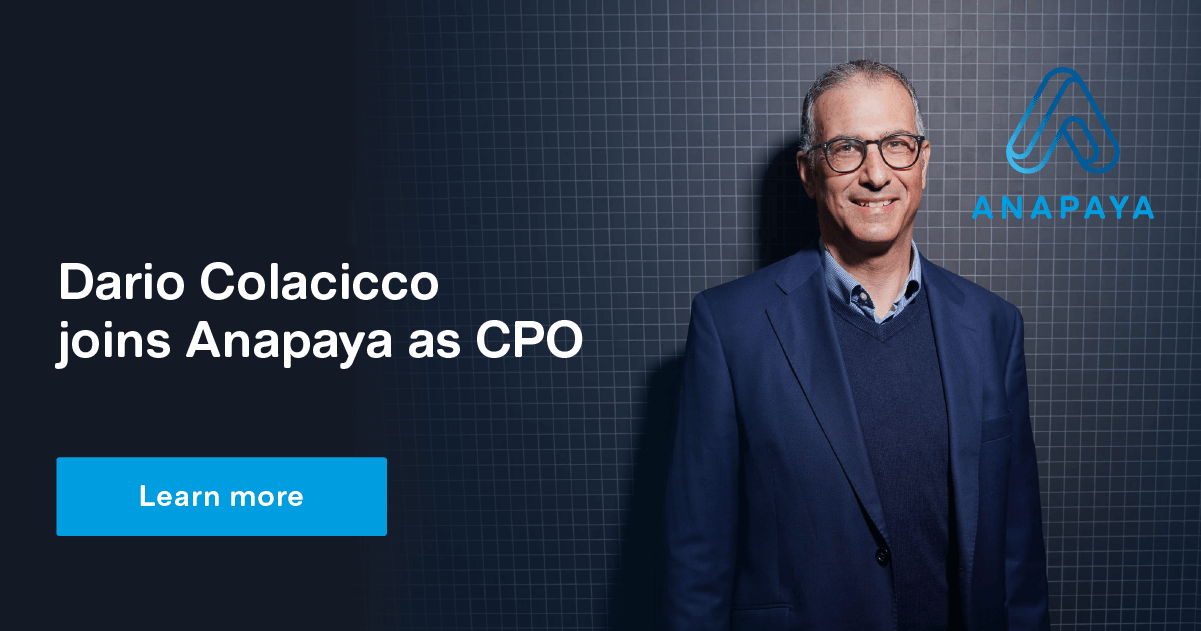 The commercial SCION provider has acquired ten key hires, including the former senior director of professional services for Sunrise Communications.
(March 31st, 2023, Switzerland) - Following the successful federal implementations of their connectivity solution, Anapaya has hired several key individuals to help continue the company's success in Switzerland and abroad. Primarily amongst these individuals is Dario Colacicco, who brings over 27 years of experience in IT and telecommunications to the company.

"Anapaya's phenomenal growth is owed to a team of top-of-class, multidisciplinary professionals who are driven by a shared vision of creating a safer, more reliable internet that empowers society today and in the future.", said Martin Bosshardt, Anapaya CEO. "As we continue to grow, we want to attract and gain industry leaders and innovative thinkers, and Dario ticks both those boxes." Formerly serving as the Senior Director of Professional Services at a leading telecommunications company, Sunrise, Dario Colacicco has joined Anapaya as Chief Product Officer. In his new role, he will lead the product strategy and oversee the development of key products, including Anapaya CORE, GATE, and EDGE. He will also contribute his expertise to major projects such as the SSFN.

Anapaya's new Chief Product Officer, Dario Colacicco, is excited about the opportunities that SCION presents to telecommunications organizations. "I'm thrilled to be joining Anapaya at such a pivotal moment in its growth," says Dario. "With SCION, we're now seeing a unique opportunity for telcos to monetize premium paths and offer specific services and policies that are sorely needed in today's market. I feel privileged to be part of a team that's at the forefront of this exciting development."

Dario's extensive experience in senior management positions makes him the ideal fit for his new role at Anapaya as CPO. During his eight-year tenure at Sunrise, he oversaw all major customer projects and was responsible for ensuring exceptional customer success. Before his time at Sunrise, Dario worked at top companies like Ascom, Connectis, and SPIE, where he managed large teams and built up various organizations.

In addition to Dario's appointment, Anapaya has recently expanded its team with ten new specialists, including senior engineers, sales experts, and marketing professionals. Attributed mainly to their various successful large-scale projects, the tech start-up continues to attract talent and visionaries, boasting an extensive board and growing team. This strategic move aims to further strengthen Anapaya's position as a leading provider of secure and reliable connectivity software in the Swiss market and beyond.

"Our growth is only just beginning," said Martin. "We are expanding and already have some interesting international prospects that truly show the power of SCION. I'm confident that these new talents will bring value to the team and where their contributions will take us as a company into the future."

About Anapaya
Anapaya Systems AG is a Swiss company whose goal is to build an international ecosystem providing SCION-based services for a more reliable, secure, and stable networking experience. Our solutions provide organizations around the globe with a way to transport critical business data securely and transparently across the network, sending information between corporate sites, trusted partners, and cloud providers. Anapaya is located at Hardturmstrasse 253, 8005 Zürich, Switzerland and represented by Martin Bosshardt (CEO) and Samuel Hitz (CTO).

Contact Marketing & Communications: leah.ladines@anapaya.net