Anapaya partners with Extreme Networks to deliver the first SCiON-enabled switches for the Swiss Finance Industry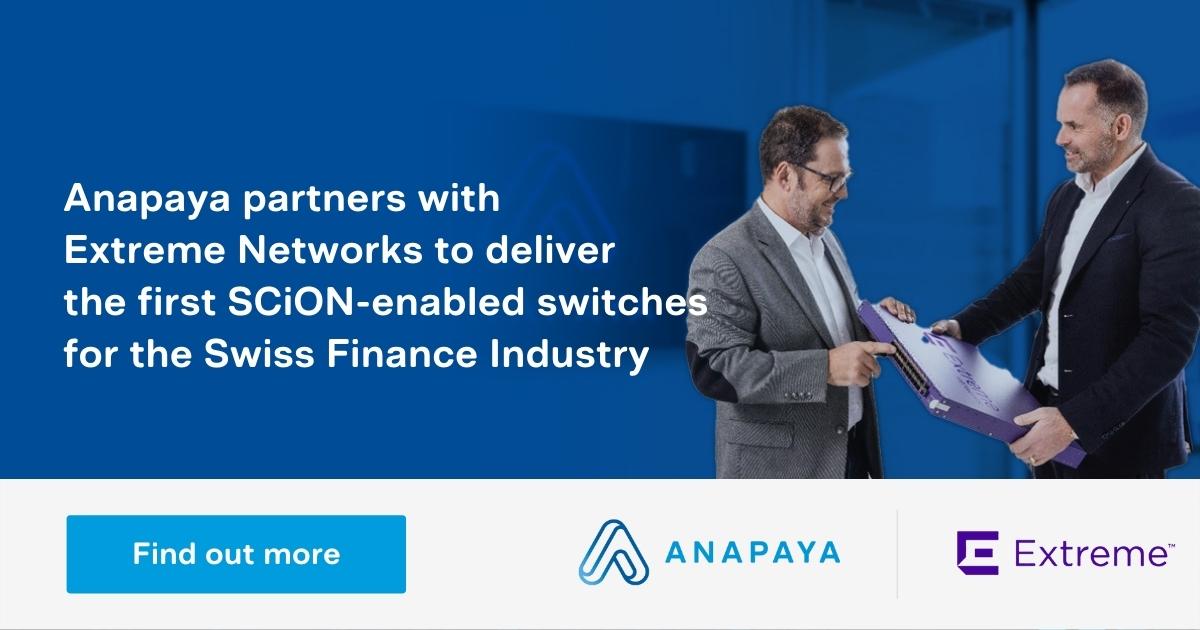 ZURICH, SWITZERLAND, 7th DECEMBER 2021 - Anapaya Systems AG has announced its collaboration with Extreme Networks, Inc., a cloud-driven networking company headquartered in San Jose, California, to create the first SCiON-enabled switches for the Swiss finance industry.

The new Secure Swiss Finance Network (SSFN) has been launched by SIX and the Swiss National Bank to further improve the financial system's resilience against cyber risks. The project will ensure secure, flexible, and resilient data communication between various financial organizations in Switzerland. Extreme Networks will offer SSFN participants its advanced, easy-to-deploy, and highly secure hardware switches as SCiON gateways. It will enable users to access the SSFN without the inconvenience of complex server-based implementations.

"Extreme is a long-standing and trusted partner of Anapaya, and we are incredibly pleased to have them involved in this groundbreaking project. Their innovative solutions will further add to the benefits the SSFN provides for users and organizations," says Anapaya CEO Martin Bosshardt. "The fact that Extreme Networks is becoming one of the first networking solutions providers to be SCiON-enabled is also a testament to SCiON's role in the future of connectivity."

The SCiON network, on which the SSFN is based, enables custom-design network paths, end-to-end, across multiple carriers globally. This allows users to control where their confidential and valuable data travel, avoid high-risk geopolitical regions, and optimize network path selection based on availability, cost, speed, latency, and other requirements. SSFN participants will benefit from the any-to-any architecture, immunity to routing attacks, DDoS protection, and an even higher degree of data control unavailable from any other solution on the market.

Extreme Networks' solutions will introduce a level of convenience for SSFN participants at the user level. Their Integrated Application Hosting uses an innovative combination of operating software and hardware features to provide extended services – such as SCiON – without replacing the existing network infrastructure. Additionally, Extreme's switches provide enhanced security features, such as secure link encryption by supporting IEEE 802.1AE MACsec, which encrypts and decrypts network traffic between connected switches.

"At Extreme, we have extensive experience providing the most advanced, powerful and resilient networking solutions to financial organizations across the world, including those in Switzerland," says Extreme Networks' DACH Senior Regional Director, Andreas Livert. "The fact that Anapaya has partnered with us to create this vital yet highly-sensitive new infrastructure for the Swiss finance industry proves just how advanced, reliable, and secure our solutions are – and we are absolutely thrilled to support this milestone project."
About Anapaya Systems
Anapaya Systems AG is a Swiss company whose goal is to build an international ecosystem providing SCION-based services for a more reliable, secure, and stable networking experience. Our solutions provide organizations around the globe with a way to transport critical business data securely and transparently across the network, sending information between corporate sites, trusted partners, and cloud providers. Anapaya is located at Hardturmstrasse 253, 8005 Zürich, Switzerland and represented by Martin Bosshardt (CEO) and Samuel Hitz (CTO).
Contact Marketing & Communications: ladines@anapaya.net
About Extreme Networks
Extreme Networks, Inc. (Nasdaq: EXTR) creates effortless networking experiences that enable all of us to advance. We push the boundaries of technology leveraging the powers of machine learning, artificial intelligence, analytics, and automation. Over 50,000 customers globally trust our end-to-end, cloud-driven networking solutions and rely on our top-rated services and support to accelerate their digital transformation efforts and deliver progress like never before.

For more information, visit Extreme's website at https://www.extremenetworks.com or follow us on LinkedIn, YouTube, Twitter, Facebook, or Instagram.

Extreme Networks, the Extreme Networks logo, and ExtremeCloud are trademarks or registered trademarks of Extreme Networks, Inc. in the United States and other countries. Other trademarks shown herein are the property of their respective owners.
Extreme Networks PR Contact
Miryam Quiroz Cortez
+44 (0) 118 334 4216
PR@extremenetworks.com