Anapaya partners with Canadian-based InfoSec Global, the leader in Cryptographic Agility Management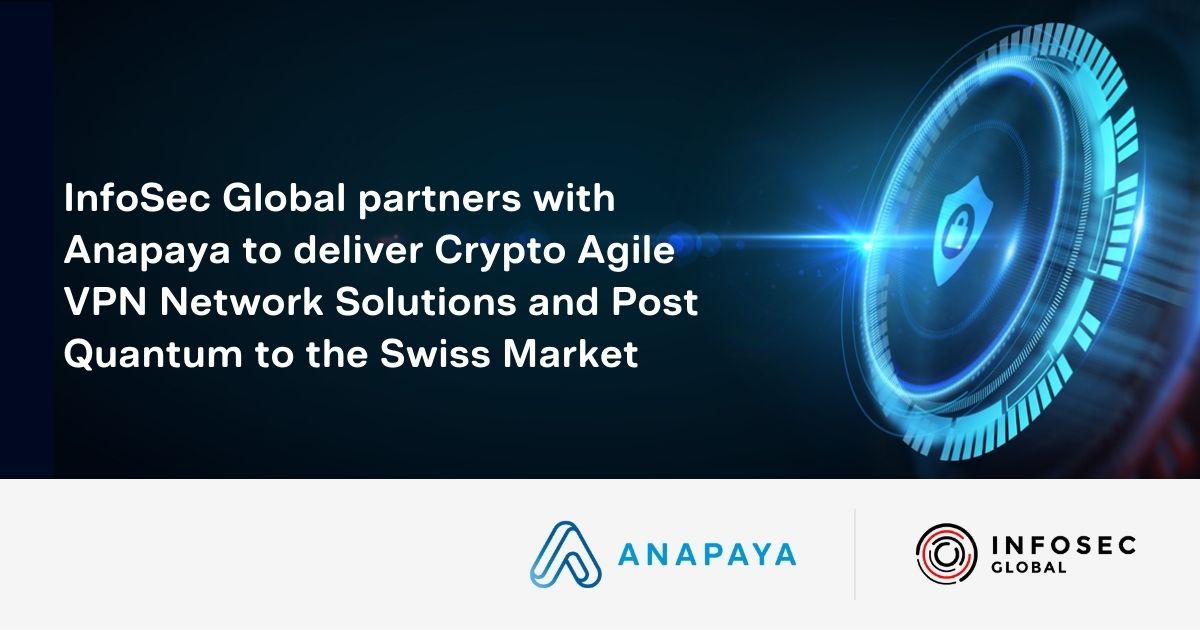 The joint solution offers users comprehensive network protection against DDoS breaches, zero-day threats, brute force attacks, and long-term eavesdropping

ZURICH, Switzerland – January 18, 2022 – InfoSec Global, the leader in Cryptographic Agility Management headquartered in Toronto, Canada, expands its presence internationally, today announced a formal partnership agreement with Anapaya Systems AG to deliver unparalleled network communication security capabilities to Financial Services institutions across Switzerland. Anapaya, a Swiss-based company, provides organizations a way to transport critical business data securely, efficiently, and transparently across digital communication networks.
InfoSec Global's AgileSec VPN complements Anapaya's recent Secure Swiss Finance Network project, which benefits various financial institutions. Anapaya's SCiON-Internet ecosystem enhanced with AgileSec VPN will provide organizations with unprecedented protection against network and Internet-based cyber threats, such as DDoS, zero-day, and brute force attacks.
"InfoSec Global works with some of the largest Financial Services institutions in the world. Achieving the highest levels of security across their network communications is paramount to safeguarding sensitive customer data, protecting digital systems, and maintaining compliance," stated Nagy Moustafa, Co-Founder & CEO, InfoSec Global. "At a time when network attacks are at an all-time high, we are extremely excited to be augmenting the already formidable security features of the SCiON network with our crypto agile VPN solution."
InfoSec Global's AgileSec VPN is a high-performance, enterprise-grade quantum-safe network encryption solution designed for organizations looking to protect classified communications against cyberattacks and long-term eavesdropping. Powered by patented crypto agility technology, AgileSec VPN protects highly critical network communications by establishing multiple network links encrypted with a variety of cryptographic algorithms, including post-quantum, sovereign, and classical encryption.
SCiON enables its users to custom-design network paths, end-to-end, across multiple carriers in the globe. This allows users to control where their confidential and valuable data travel, avoid high-risk geopolitical regions, and optimize network path selection based on availability, cost, speed, latency, and other requirements of hyper-connected multinational companies.
"Anapaya SCiON solutions deliver best-of-breed security features for network communications, including full protection against DDoS attacks, traffic prioritization, geofencing, and high resilience connectivity," stated Martin Bosshardt, CEO, Anapaya. "By adding AgileSec VPN with crypto agility capabilities from InfoSec Global, we have simultaneously made our networks more secure, resilient, and future-proof."
The Infosec Global AgileSec VPN is the first and only VPN solution recognized by Anapaya as 'SCiONabled'.
About InfoSec Global
As the leader in Cryptographic Agility Management, InfoSec Global helps enterprises and IoT device makers discover, remediate, automate and control their digital certificates, keys, encryption and other cryptographic assets. Powered by patented technologies and delivered through a managed Crypto-as-a-Service, InfoSec Global's Cryptographic Agility Management Platform helps restore digital trust. From cryptography asset discovery and threat detection to rapid remediation and automated threat management, InfoSec Global reduces risk, enhances responsiveness, improves resiliency, and protects against future threats posed by quantum, AI and machine-learning technologies.
Visit us at www.infosecglobal.com
Media contact:
Ninaa Persad
VP, Revenue Operations
Infosec Global
ninaa.persad@infosecglobal.com
About Anapaya Systems
Anapaya Systems AG is a Swiss company whose goal is to build an international ecosystem providing SCiON-based services for a more reliable, secure, and stable networking experience. Our solutions provide organizations around the globe with a way to transport critical business data securely and transparently across the network, sending information between corporate sites, trusted partners, and cloud providers. We recently launched the Secure Swiss Finance Network (SSFN) with the Swiss National Bank and SIX. We are located at Anapaya Systems AG, Hardturmstrasse 253, 8005 Zürich, Switzerland and represented by Martin Bosshardt (CEO) and Samuel Hitz (CTO).
Contact Marketing & Communications: ladines@anapaya.net