Is the internet secure enough?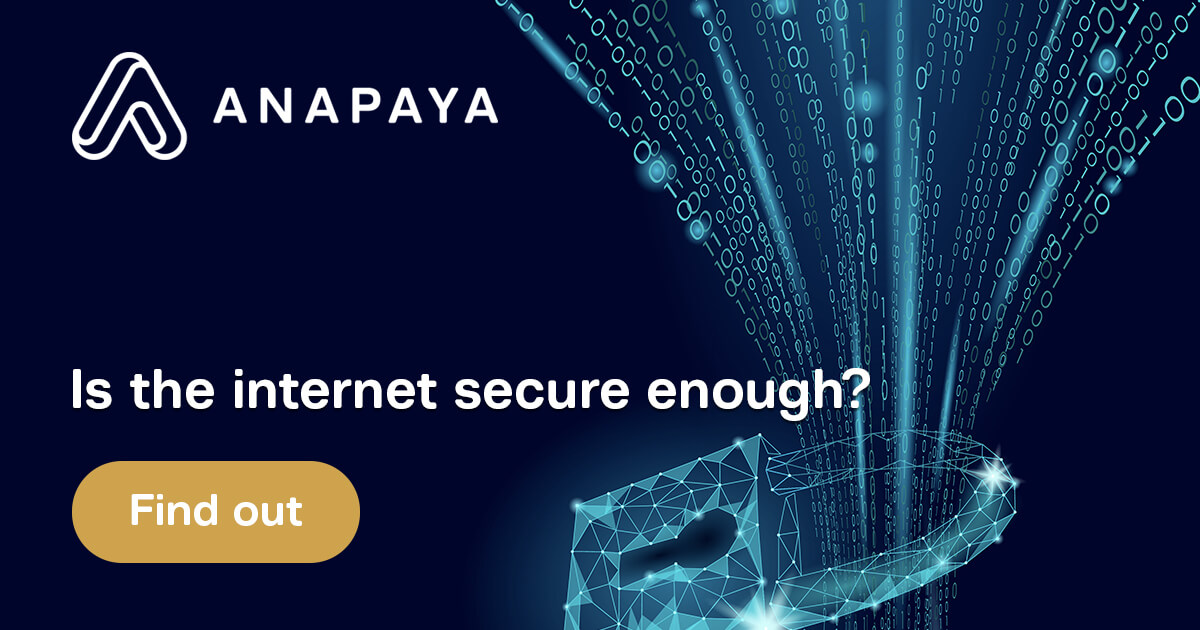 For businesses, the answer is no.
Cyberattacks, stability, privacy issues, speed and reliability are all factors that businesses have to contend with in the cyber sphere. China's announcement of a 'new internet' seems to indicate that the web as we know it may just not be good enough for business. Let's examine why.
A web of problems for businesses
Today, businesses seem to run into a multitude of problems when using the internet. Cyber attacks occur every 39 seconds, on average 2,244 times a day, and the damage cybercrime has caused is expected to reach $6 trillion (5.1 trillion Euros) by 2021. The problem isn't simply just going to go away. Statistics from cybersecurity company Nexusguard report that DDoS attacks surged 542% in the first quarter of this year, compared to the final three months of 2019.
These attacks not only threaten the data and capital of businesses, but also their ability to operate efficiently. Denial of Service (DDoS) attacks cause businesses to lose connectivity and interrupt their services for hours and even days, costing thousands of Euros in revenue. This has caused businesses around the world to examine how to secure their business continuity.
These attacks are expected to become much more common as cybercriminals take advantage of the growth in public clouds and are able to sell their services cheaply on the dark web.
How are businesses tackling the challenges?
Businesses today have resorted to relying on more than one Internet Service Provider (ISP), a growing trend for international companies. This enables them to stay connected when one ISP fails.
Many businesses are also investing in cyber-security measures. Gartner predicts that global security spending will reach $133.7 billion by 2021. These security measures are designed to stop unauthorised access and hacking among other threats. However, these measures do not account for direct cyber-attacks on businesses themselves.
Recent examples of security breaches clearly indicate that the internet today is simply not secure enough. Let's take a look at some of the cyber attacks that happened just this year.
Marriot
On March 31st, 2020, the hotel chain Marriott disclosed a security breach that impacted the data of more than 5.2 million hotel guests who used their company's loyalty application.
The data accessed in the breach involved personal details such as names, birthdates, and telephone numbers, travel information, and loyalty program information.
Hackers obtained login credentials of two accounts of Marriott employees who had access to customer information. They used this to siphon off the data. It was only discovered a month later.
According to the Marriot, hackers might have obtained credentials of their employees either by credential stuffing or phishing.
New Zealand Stock Exchange
The entirety of the New Zealand Stock Exchange was shut down for three full days in August 2020 following a brutal cyber attack. Our blog post outlines the severity of this attack.
The cause of the attack appeared to be from an offshore, volumetric DDoS (distributed denial of service) attack via the exchange's network service provider. The attack impacted systems such as NZX websites and the Markets Announcement Platform. NZX managed to mitigate the attack and restore connectivity for the NZX, however, this was short-lived.
The next day, NZX found itself shut down again due to the same DDoS attack, and the following day held the same disastrous pattern.
Zoom
Since the Covid-19 pandemic, Zoom has become a popular option for businesses - however, it also became a target in April this year.
In the first week of April 2020, it was reported that more than half a million Zoom account login credentials were up for sale and some were given away for free. Along with account login credentials, victims' personal meeting URLs and HostKeys were available as well. The leaked accounts' details belonged to financial institutions and other organisations dealing with sensitive data.
Is there another option?
The internet as we know it is still used by billions around the world and will probably remain a necessity for business. However, that does not mean that it is a reliable or even adequate solution for businesses today - just that it is the only option commonly available.
Multi-Protocol Label Switching (MPLS) is used by many businesses, however, the truth is that it cannot reliably scale alongside a business. MPLS does not scale up for huge networks like the internet, but smaller systems benefit from it. Thus, MPLS is widely used within ASs or private VPNs.

Businesses today need a new solution that guarantees security, reliability and scalability. That solution could very well be Anapaya.
The Next-Generation solution
Of course, the solution to this is not to simply forego the use of the internet. The internet has become as vital to business and our lives as smartphones and computers have. Companies with sensitive data need more control and security - a better way to connect.
Anapaya's Next-Generation internet is this better way. It offers companies the ability to select which networks their data passes through and puts the control back in the hands of the data owner. For example, if they wish to avoid certain geographical locations, they may choose which to avoid before sending or choose to avoid poorly regulated locations or networks entirely.
Anapaya's network is also completely immune to routing attacks, with information only being sent through legitimate networks registered through trusted ISPs. This allows businesses with sensitive data, such as banks, peace of mind whenever they connect.
Businesses who use the Next-Generation Internet can now benefit from unprecedented security, reliability, compliance and control - and it's available right now through Anapaya.
Find out more about Anapaya
Anapaya Systems is a Swiss company whose goal is to create a better way to connect for businesses. It offers next-generation internet capabilities and is, to date, the most reliable and secure connectivity solution available. Through two primary solutions named Anapaya EDGE and Anapaya CONNECT, Anapaya can guarantee a more secure, better performing and more flexible connectivity experience.
Contact Anapaya today to find out more about the Next-Generation Internet and gain access to a better way to connect today.