K-Businesscom AG Switzerland announces strategic partnership with Anapaya amidst ongoing expansion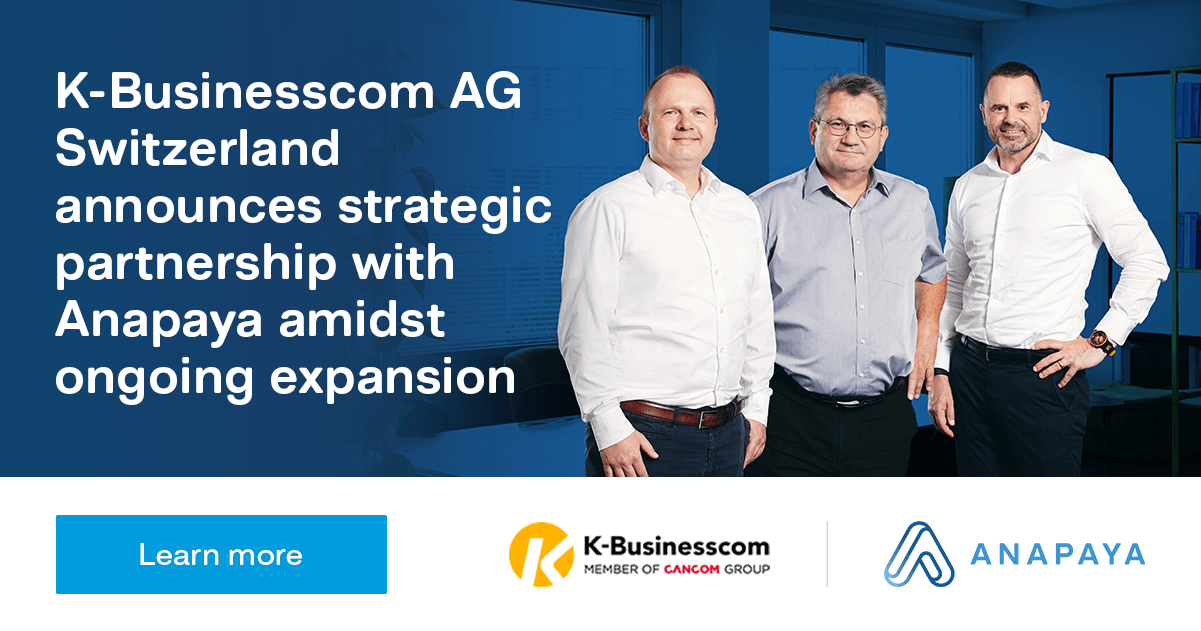 Zürich, Switzerland – July 13th, 2023 – K-Businesscom AG Switzerland, the leading ICT solution, service, and digitization provider in the DACH region, is pleased to announce its strategic partnership with Anapaya, a SCION-technology provider. This collaboration will not only propel K-Businesscom's expansion in Switzerland but also kickstart its services in the Health and Social Care sector.
By leveraging Anapaya's SCION technology, K-Businesscom AG Switzerland has further enhanced its capabilities, building upon its rapid growth and expansion. K-Businesscom delivers comprehensive end-to-end solutions to businesses of all sizes in Switzerland and across Europe. Following its integration into the CANCOM Group, K-Businesscom AG Switzerland has experienced significant expansion, including the acquisition of Belsoft Infortix AG, a Swiss IT company specializing in infrastructure, security, and cloud-tailored solutions.
With years of experience as a health and social care sector provider, K-Businesscom AG Switzerland fully understands the value of cybersecurity and resilience in today's interconnected world. Stephan Ging, Chief Sales Officer, emphasized the critical importance of healthcare connectivity, stating, "In the realm of healthcare, it is no longer a matter of inconvenience; it is the difference between life and death. That is why our ICT infrastructure and security solutions adhere to the highest standards and demand highly resilient connectivity. Anapaya's SCION solutions meet these requirements and more."
Recognizing the unique advantages SCION offers for the healthcare network, Martin Bosshardt, CEO of Anapaya, highlighted its significant elements in cybersecurity upgrade, stating, "SCION introduces new elements to cybersecurity with routing attack immunity, DDoS protection, and instantaneous fail-over solutions. Combined with geo-fencing and unprecedented path control, it's no wonder why network experts are switching to SCION."
K-Businesscom AG Switzerland will play a pivotal role in delivering ICT security and solutions to the health and social care sector, particularly in expediting customer integration into the recently launched HIN Vertrauensraum (HVR), a SCION-powered private internet for the HIN community. Leveraging their expertise in cybersecurity and project implementation, testing, and reconfiguration, K-Businesscom is prepared to support every aspect of this transformative initiative.

"We eagerly anticipate collaborating with Anapaya to serve Switzerland's health and social care sector," said Stephan Ging, K-Businesscom's Chief Sales Officer. "This partnership introduces innovative approaches to connectivity and security, and we are excited to explore them together."

Martin Bosshardt expressed his enthusiasm, adding, "Gaining esteemed partners like K-Businesscom solidifies our company's purpose. When industry leaders recognize SCION's potential and power, it demonstrates that we are on the right path. Our team is thrilled to share the news of our recent collaboration with K-Businesscom.
For further information, please contact:

K-Businesscom: Stephan Ging, CSO stephan.ging@k-business.com
Anapaya Systems: Martin Bosshardt, CEO martin.bosshardt@anapaya.net
About Anapaya Systems
Anapaya Systems AG is a Swiss company whose goal is to build an international ecosystem providing SCION-based services for a more reliable, secure, and stable networking experience. Our solutions provide organizations around the globe with a way to securely and transparently transport critical business data across the network, sending information between corporate sites, trusted partners, and cloud providers. We are located at Anapaya Systems AG, Hardturmstrasse 253, 8005 Zürich, Switzerland and represented by Martin Bosshardt (CEO) and Samuel Hitz (CTO).
About K-Businesscom
K-Businesscom AG Switzerland has been part of the K-Businesscom AG Group with headquarters in Vienna and, with its innovative solutions, addresses institutions in the healthcare sector as well as companies of different sizes and industries - for example, also from the financial services sector. As a member of CANCOM Group since June 2023, K-Businesscom AG Group is a key part of an international Leading Digital Transformation Partner with over 5,600 employees at around 80 locations and a key player in the DACH region. With many years of expertise in technology and certified know-how in collaboration, networking, and IT technology, KBC acts as a consultant, implementation partner, managed service partner, and digital business engineer. Combined with technologies and services from numerous international manufacturers such as Cisco, Microsoft, HPE or AWS. The company also develops its own software solutions and platforms for new business models with its customers. As digital makers, KBC employees always think end-to-end. Through its Kapsch roots, K-Businesscom combines 130 years of innovative strength with experience as a market leader for network, data, IT, security, collaboration, and managed services. The Cyber Defense Center provides 24/7 protection against cyber attacks, and KBC designs cloud transformation, smart spaces, and hybrid offices. The employees of K-Businesscom are convinced that digital technologies can create value, protect the environment and improve our standard of living. With its digitization expertise, KBC, therefore, intends to make a significant contribution to promoting the European data economy in the coming years.
K-Businesscom AG FY 22/23: approx. 520 million euros, 1,622 employees.
CANCOM Group FY 2022: 1.3 billion euros, 4,000 employees
About CANCOM
As a leading Hybrid IT Service Provider, CANCOM accompanies organizations into the digital future. The CANCOM Group's range of IT solutions includes consulting, implementation, services, and the operation of IT systems. Customers benefit from the extensive expertise as well as a holistic and innovative portfolio that covers the IT requirements that are necessary for a successful digital transformation.
About HIN
Health Info Net AG (HIN) protects patient data in the digital world. For healthcare professionals in Switzerland, HIN is the standard for secure communication and the trustworthy handling of sensitive data. HIN was founded in 1996 on the initiative of the FMH and the Ärztekasse. Since then, HIN has been networking healthcare professionals in a simple, secure, and personal manner.