What is Telemetry-Based Routing?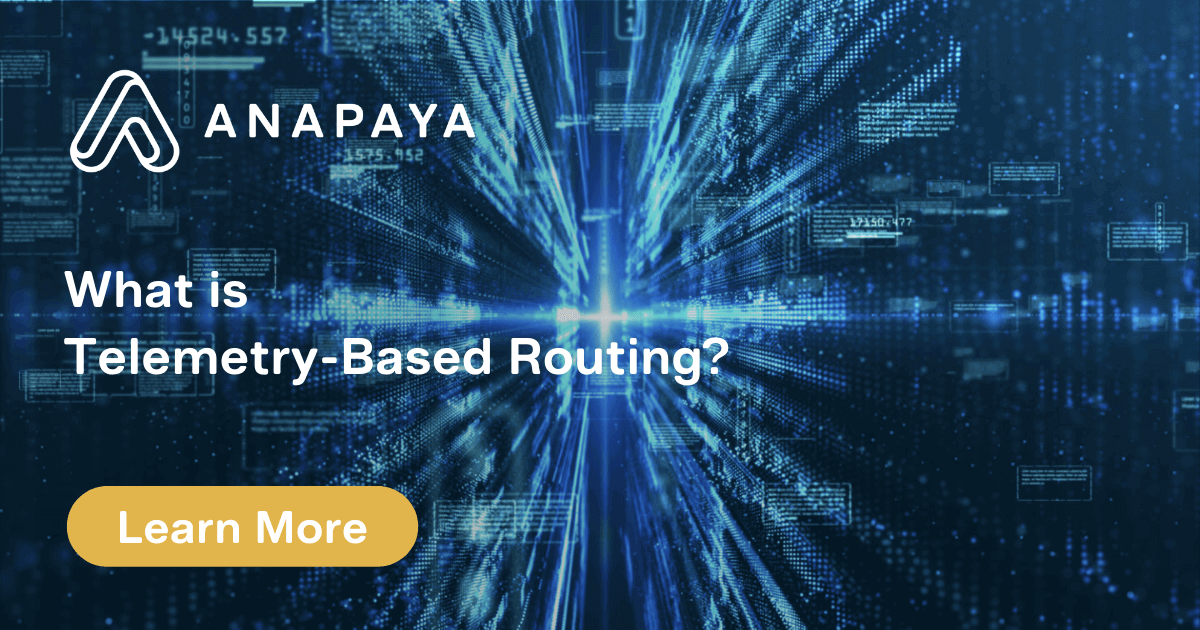 Next-generation routing, today.
Gartner has listed Anapaya as a vendor in the Telemetry-based Routing category, predicting that these solutions will reach mainstream adoption over the next five to 10 years. Find out what this means for enterprises and individuals in this post.
The next generation of connectivity
Research power-house Gartner has recently recognised Anapaya in their research, Hype Cycle for Enterprise Networking, 2020. In the research, Gartner has listed Anapaya as a sample vendor in both the Enhanced Internet Services and Telemetry-Based routing technologies. It's important for businesses to consider their connectivity solutions into the future.
However, not many people fully understand or even have knowledge about what Telemetry-Based Routing is. Typing the phrase into search engines is a sure way to become confused for even the most tech-minded reader.
This blog post will outline what Telemetry-Based Routing is, how Anapaya fits into it and how it can impact the way you connect into the future.
Telemetry-Based Routing
To begin, it may be helpful to refer to what Gartner means when they talk about Telemetry-Based Routing in a simple manner.
Telemetry-Based routing, according to Gartner
According to Gartner, "Telemetry-Based routing (TBR) dynamically steers and/or influences network traffic based on a broader set of information vs. traditional IP routing. Intelligence is derived from real-time network measurements, such as path latency, server availability, or policies such as circuit cost or data sovereignty. This is different from traditional IP routing which uses a hop-by-hop method based on destination IP address. TBR is typically packaged within a broader offering versus sold as a stand-alone fashion."
Gartner recommends, "IT leaders should prefer network services and products that embed telemetry-based routing concepts in SD-WAN, CDN, DNS and carrier-based services…IT Leaders should use TBR features when delivering internet-based, mission-critical applications that require high-performance. However, they should not expect to acquire TBR as a stand-alone product offering... TBR can improve performance, security and optimize costs for applications and services accessed over the internet, which can improve customer experience."
Telemetry-Based routing, in plain English
While Gartner's definition certainly covers exactly what TBR is, it may still confuse many readers. TBR refers to a more intelligent way of how data traffic reaches its destination. Instead of simply taking the fastest route possible, TBR's standard includes other parameters and adjusts on the fly.
For example, Anapaya's TBR refers to network pathing that adapts and changes according to parameters that you would like to optimise for. A business may decide that they want the most secure route possible to send their data. TBR will then identify insecure paths or even paths that stray into countries with dubious privacy laws and reputations. When compared to today's internet routing, this is vastly different.
Today's Border Gateway Protocol (BGP) routing only optimises according to length, selecting the shortest route possible. This is why BGP hijacking and cyberattacks are so successful - all it takes for a cybercriminal to steal data is to upload a fake route that appears to offer a shorter way to your data's destination.
In addition to this, TBR enables businesses to select for any optimisation - latency, server availability, speed, reliability, security - you name it.
How Anapaya fits in
Anapaya fits into the TBR category because of the sheer control and power it gives to its customers. Like a GPS may reroute a motorist due to changing traffic conditions, Anapaya maps the route you send your data to specific routing requests, such that the data is routed by the lowest-latency route, most cost-effective route, bypasses certain countries, or any specification the sender of the data requires.
Gartner has listed Anapaya as a TBR provider, as well as the new category of Enhanced Internet Services. By using Anapaya, companies will be able to control the data they send and how it travels to its intended destination.
Find out more
If you would like to find out more about Telemetry-Based Routing and Gartner's listing of Anapaya, you can read about it in our blog. We've also covered what Enhanced Internet Services means in a separate blog that you can find here.
If you would like to join the next evolution of connectivity, consider Anapaya. Anapaya offers a connection that is guaranteed to be secure, reliable and controllable. Contact Anapaya today to find out more about their services, and gain access to a better way to connect.
Gartner, Hype Cycle for Enterprise Networking, 2020, July 2020
Disclaimer: Gartner does not endorse any vendor, product or service depicted in its research publications, and does not advise technology users to select only those vendors with the highest ratings or other designation. Gartner research publications consist of the opinions of Gartner's research organization and should not be construed as statements of fact. Gartner disclaims all warranties, expressed or implied, with respect to this research, including any warranties of merchantability or fitness for a particular purpose.
Tags: