The factors that determine the likelihood of a cyberattack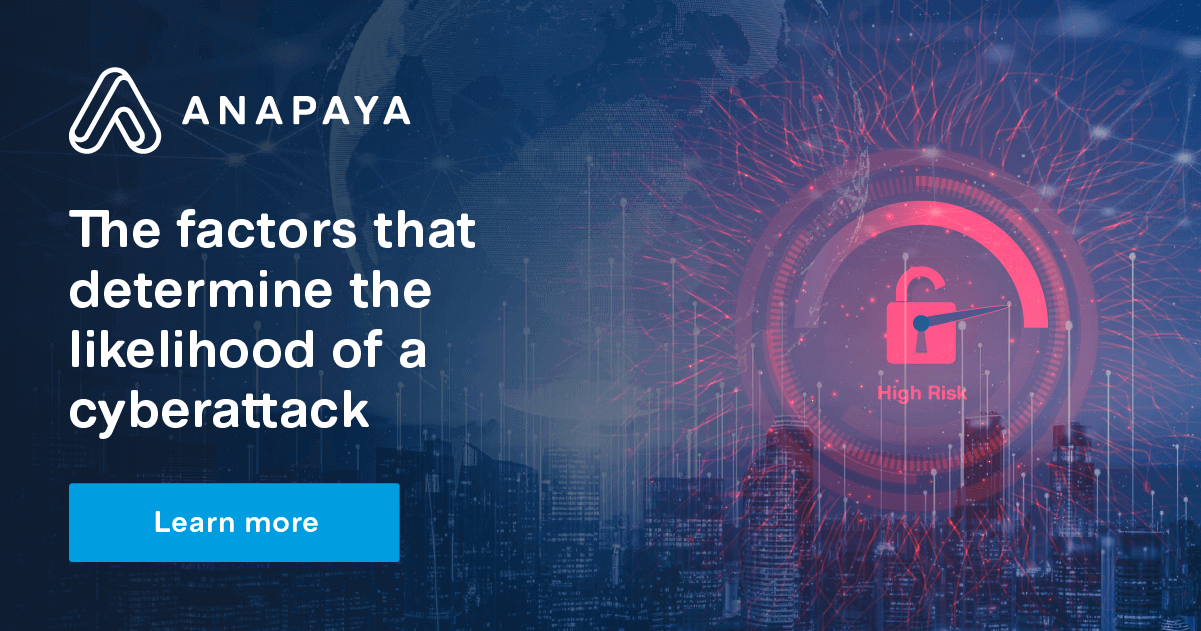 It's a phrase that's often said but is all too foreboding - "that'll never happen to me."

The truth is, most people have said such a thing when faced with an unfortunate reality. It's human nature, but it also leaves many unprepared for when misfortune does come knocking.

In the world of cybercrime, criminals love this mentality. Organizational leaders, federal institutions, and even remote workers who fail to prepare adequately are high-value cybercrime targets.

However, how likely are you to fall victim to an attack? It's an essential question to consider, especially when the stakes are in the millions - $4.35 million since 2022.

In this blog post, we'll explore the reality of cyberattacks, what determines your risk, and how likely you are to fall victim to them.
How at risk is your organization?
Not every company will have the same risk of attack. Certain attributes of companies mean more security is required, and more security means more costs.

Here are the main factors that determine risk for enterprises.
Organization size
As discussed in a previous blog post, the more employees you have, the more surface area for a cyberattack. This is only exacerbated by the new normal of team members working remotely or from home. Larger companies are also more valuable targets - and cybercriminals have even begun to target federal institutions. The larger your organization is, the more you have to invest in securing your connections.
Type of data
Some organizations collect very sensitive data that carry huge fines should they fail to protect it. Criminals know this and specifically value that data for ransom. Outside of the GDPR - which can fine up to 20 million euros, or 4 % of their total global turnover of the preceding fiscal year, whichever is higher - different industries also have authorities to deal with.
For example: If you're a medical provider, your data needs to be secured under the Health Insurance Portability and Accountability Act (HIPAA). Businesses in commerce or professional services that store credit card information must ensure their Payment Card Industry Data Security Standard. The more value your data carries and the more sensitive it is, the more of a target it is.
Number of connected products & services
In today's world, every business and organization is connected in some way or another. Of course, you likely use the internet in some way, and everyone has a laptop. However, some companies are even more connected in ways they may not even realize. IoT devices, product communication features, and even the phones employees use all add to the risk. In 2023, The more you rely on connectivity, the more open you are to attack.
Data exchange
Nearly every company has some sort of data exchange going on some level. However, there are companies that deal with large volumes of documents, programs, applications, solutions, and tools that naturally send and exchange data on a daily basis. Every exchange and connection may open an organization to attack without users ever realizing it.
Users who are customers
DDoS attacks rely on flooding a service with false requests and locking up a system. Companies or organizations offering online services to users are viable targets for DDoS attacks. However, any company could find itself a target, tying up its online services and resources in the midst of an attack.
How likely are you to be a victim of a cyberattack
While no organization is the same, and all have varying degrees of risk, you may be wondering what the chances are for the average company. In this section, we'll outline a few statistics to help you understand the general risk of cyberattacks today.
There are about 923 DDoS attacks every day
According to Kaspersky, there are, on average, 923 DDoS attacks that occur every day. That's around 39 every hour! When you consider that connected devices generally don't shut down or are inactive after working hours, this is a dangerous number for any organization.
The USA is a hotbed for DDoS attacks
Kaspersky's Securelist blog reports that the US is the most popular target of DDoS attacks, being the recipient of 43.25%. It was closely followed by China and Germany, which were hit by 7.91% and 6.64% of reported attacks in the same period.
If you have a mobile device, you're likely to be attacked
Experian claims that one in six adults has fallen victim to a cyberattack. Furthermore, sixty percent of smartphone users and almost half (48%) of tablet users will experience a cyberattack at one point.
Nearly half of small businesses are attacked
In a survey conducted in 2021, 42% of small businesses have been attacked online. This is even more concerning when you consider that 60% of small companies end up closing their doors after an attack.
Cyberattacks continue to rise
Between 2020-2021, cyberattacks on small companies surged by more than 150%. By 2023, businesses of all sizes experienced a 38% rise in cybercrime. As more companies rely on connectivity or move to remote working, cybercrime will continue to rise.
Experts are preparing for the worse
A "catastrophic cyber event" is likely in the next two years, according to the World Economic Forum's Global Cybersecurity Outlook 2023. The survey found that 86% of business leaders expected such an event and 93% of cybersecurity leaders.
Financial services, healthcare, critical infrastructure, government services, and energy and utilities are most at risk.
According to a Veronis data risk report, Financial Services, Healthcare, Critical Infrastructure, Government Services, and Energy and Utilities are prime targets for cybercriminals and experience the most attacks on average every year.
Don't be a victim - be proactive
No one wants to be the victim of cybercrime. It can have detrimental effects on your bottom line, productivity, reputation, and more. However, cybersecurity measures are getting increasingly more expensive and could even be fighting a losing battle.

With the cybersecurity industry worth $139.77 billion and the cybercrime racket rising to be worth $10.5 trillion by 2025, industries and security companies are outgunned. Thankfully there is a better way by completely side-stepping the challenge entirely.

SCION is a new approach to cybersecurity. Instead of defending against a constant barrage of attacks, it takes you completely off the grid entirely. Cybercriminals can't attack what they're unaware of, and SCION renders your connectivity completely invisible.

It's not just a security measure; it's a new way to connect. If you would like to find out more, visit our website for more information.