Anapaya closes 6.8M CHF financing round with lead investor SIX Fintech Ventures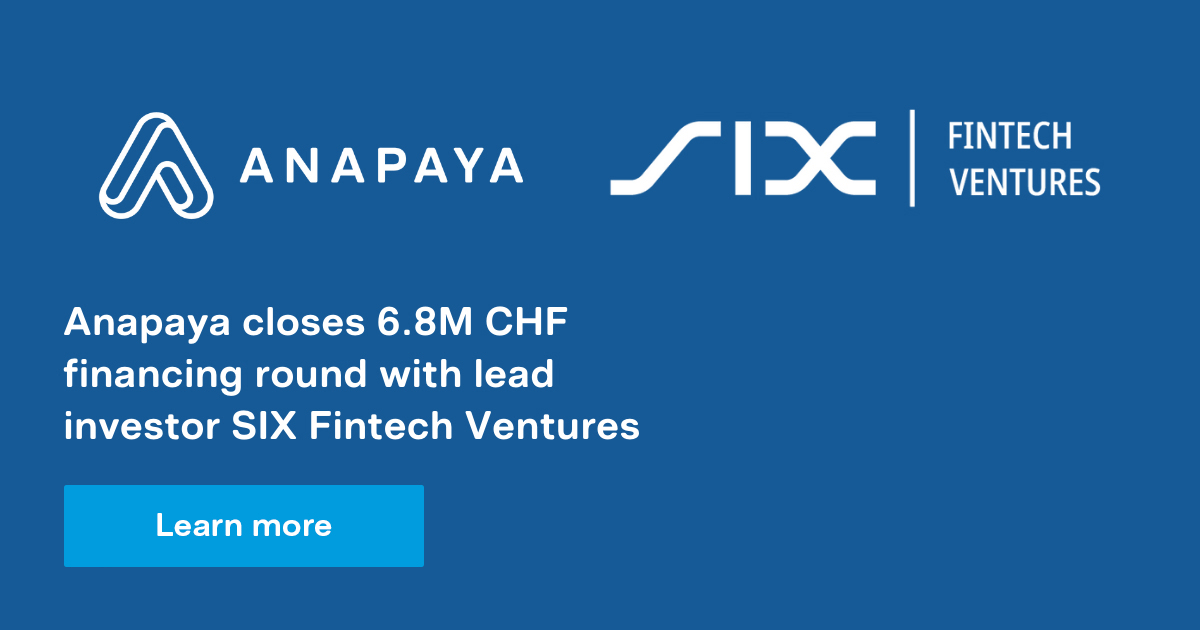 Zürich, Switzerland - Anapaya, the commercial provider of SCION technology, has secured 6.8 million CHF in funding with lead investor SIX Fintech Ventures, the corporate venture arm of SIX. The substantial investment will be used to further develop Anapaya's SCION-based solutions designed to provide unprecedented cybersecurity measures and networking control.
The Swiss financial sector has faced many challenges regarding flexibility and security when using digital methods for daily business activities. The Internet has severe limitations on security, reliability and availability due to the Border Gateway Protocol it has relied upon since its inception over 30 years ago. Multinational companies that exchange terabytes of data across the globe have long needed a secure and reliable connectivity solution. Industries that handle confidential and highly sensitive information, such as the banking industry, are exposed to disruptions and cyber attacks whenever they connect to the Internet on a daily occurrence.
Anapaya's next-generation internet solution is set to radically transform the way these companies access the internet. It provides high availability and efficient connectivity with extensive protection against cyber attacks.
Based on (Scalability, Control, and Isolation On Next-Generation Networks) SCION architecture, Anapaya solves the fundamental problems of internet communication. Anapaya's solution combines the security and reliability of private networks with the flexibility and openness of today's Internet by offering more control over user data. This eliminates security concerns, such as cyber attacks, while giving control and flexibility back to the data owner. It has already achieved a high level of maturity in productive use across Switzerland, with notable supporters including the Swiss National Bank (SNB) and the Swiss Government.
Since its founding in 2017, Anapaya has experienced rapid growth. By successfully implementing lighthouse projects and ambitious pilot programmes, the company has attracted interest from investors. SIX FinTech Ventures led the 6.8 million CHF funding round to kickstart Anapaya's international expansion. SIX are joined by other existing stakeholders and top backers such as Anapaya CEO Martin Bosshardt, who is a renowned networking and security expert. In addition, further prominent industry figures have committed to investing and will be joining the Board of Directors in July 2021. With revolutionary developments set for release later this year, Anapaya's success as a start-up is sure to grow internationally into the future.
Martin Bosshardt, CEO of Anapaya, commented:
"Securing investment and interest from prominent stakeholders in the Swiss financial infrastructure is a huge accomplishment. We at Anapaya are very pleased to welcome SIX FinTech Ventures and look forward to exceeding their expectations with our future projects as we continue to revolutionise global connectivity."
Maximilian Spelmeyer of SIX Fintech Ventures said:
"Anapaya's SCION-based technology not only caught our attention but also impressed large companies in the past few years. We see Anapaya as a true game-changer for the Financial Industry and in plenty of other verticals beyond. The team around CEO Martin Bosshardt has both strong roots in research and profound entrepreneurial and industry experience. For us, this was the right mixture to support the company for the next growth stage."
Anapaya's notable achievements and promising future projects, such as the Secure Swiss Finance Network (SSFN), are expected to gain traction. While the solution is currently planned to expand into industries around the world such as Healthcare, Critical Infrastructure, and Utilities, it will also become available as a home-office solution for end customers.
About Anapaya
Anapaya Systems AG is a Swiss company whose goal is to build an international ecosystem providing SCION-based services for a more reliable, secure and stable networking experience. Our solutions provide organisations around the globe with a way to securely and transparently transport critical business data across the network, sending information between corporate sites, trusted partners, and cloud providers. Anapaya is located at Anapaya Systems AG, Hardturmstrasse 253, 8005 Zürich, Switzerland and represented by Martin Bosshardt (CEO) and Samuel Hitz (CTO).
For more info, send us a message.
About SIX FinTech Ventures:
SIX FinTech Ventures is the CHF 50 million VC arm of Swiss financial market infrastructure provider SIX that invests in global early-stage startups with the goal of strengthening the innovation and competitiveness of the Swiss and Spanish financial centers. SIX FinTech Ventures invests in scalable Seed and Series A stage companies that can grow into leaders in their segment. For more information, visit https://www.six-group.com/de/company/innovation/start-ups.html