Anapaya develops a new communication service for the financial centre with the Swiss National Bank and SIX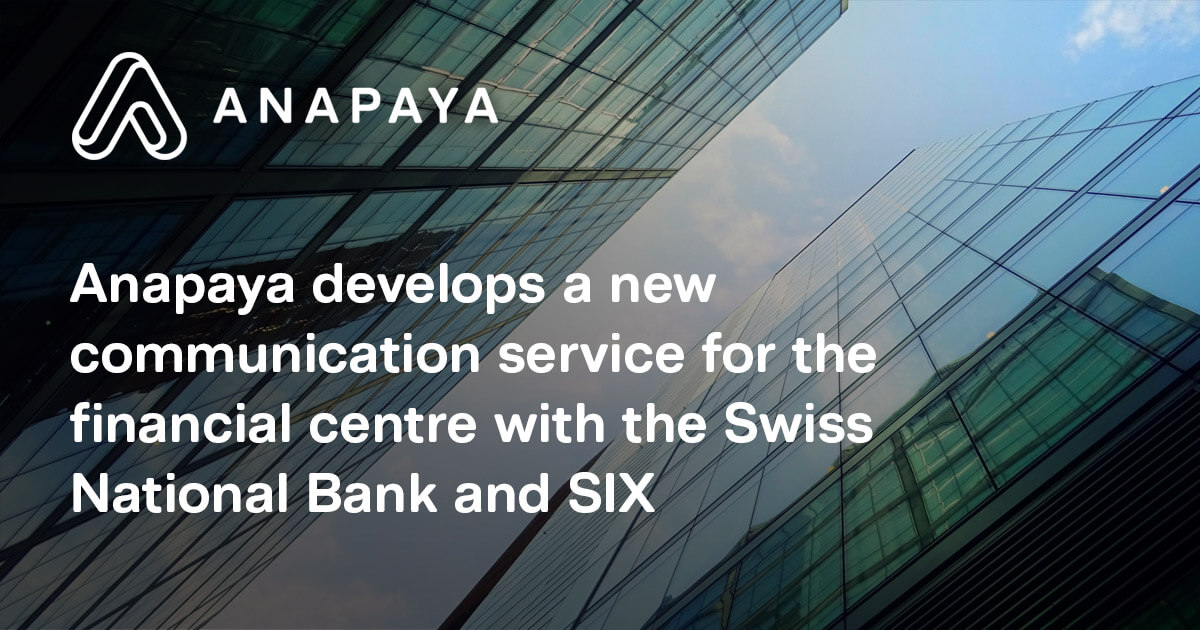 A potential new communication service for the Swiss financial centre is under development with Anapaya playing a key role in providing SCION technology and support.
Zurich, Switzerland - (30 June 2020) – A new finance communication network aims to significantly increase routing security, flexibility and resilience for exchanging data between participants of the Swiss financial centre. The new service under development with Swiss National Bank (SNB) as the commissioning party of the Swiss payment system (SIC), SIX (infrastructure and service provider for the Swiss financial centre) and Anapaya, as well as the Swiss telecom companies Sunrise, Swisscom and SWITCH as technology partner.
The financial industry has faced many challenges in terms of distribution, flexibility and security when using the internet for daily business activities. Its vulnerability to cyberattacks such as Distributed Denial of Service (DDoS) or traffic hijacking attacks has led the Swiss financial centre to use dedicated communication services such as Finance IPNet for critical services such as the Swiss payment system. The establishment of a new finance communication network would allow for highly secure, flexible and functional communication a potential alternative to Finance IPNet for accessing and transmitting sensitive data to payment and securities systems or other financial data between market participants.
This communication network is based on SCION technology, a networking protocol that solves several known problems of the traditional internet. With this protocol developed by ETH Zürich in Switzerland, senders of data not only define where the data goes to, but also which paths and countries their data travels through. In addition, it improves tremendously the resiliency of the data communication over different telecom operators and is immune to routing attacks. Furthermore, such a protocol allows countries or large business ecosystems to define their own governance structure separated from the network infrastructure providers, creating a clear sovereign network jurisdiction. "An immediately controlled, transparent and trustworthy environment is achieved for all members" explains Hakan Yuksel, CEO of Anapaya.
Anapaya Systems, the first commercial SCION technology provider, will play a critical role by providing the main industrial-grade software and services for a secure finance communication network. The new communication service will rely on Anapaya's solutions to operate efficiently and reliably, establishing the use of SCION technology for the first time in a larger commercial context with significant possibilities for future applications.
In collaboration with SNB, SIX and the telecom companies, Anapaya will run a pilot to develop and implement a secure communication network and test it for the Swiss payment system as a first use case. Should the pilot prove successful, this secure communication network could be implemented for the Swiss payment system and other financial system infrastructures.
About Anapaya
Anapaya Systems AG is a Swiss company whose goal is to develop and support industrial-grade SCION-components and to build an international ecosystem providing SCION-based services, located at Anapaya Systems AG, Hardturmstrasse 253, 8005 Zürich, Switzerland and represented by Hakan Yuksel (CEO) and Samuel Hitz (CTO).
Contact: info@anapaya.net