International Industry Leaders strengthen Anapaya's Board of Directors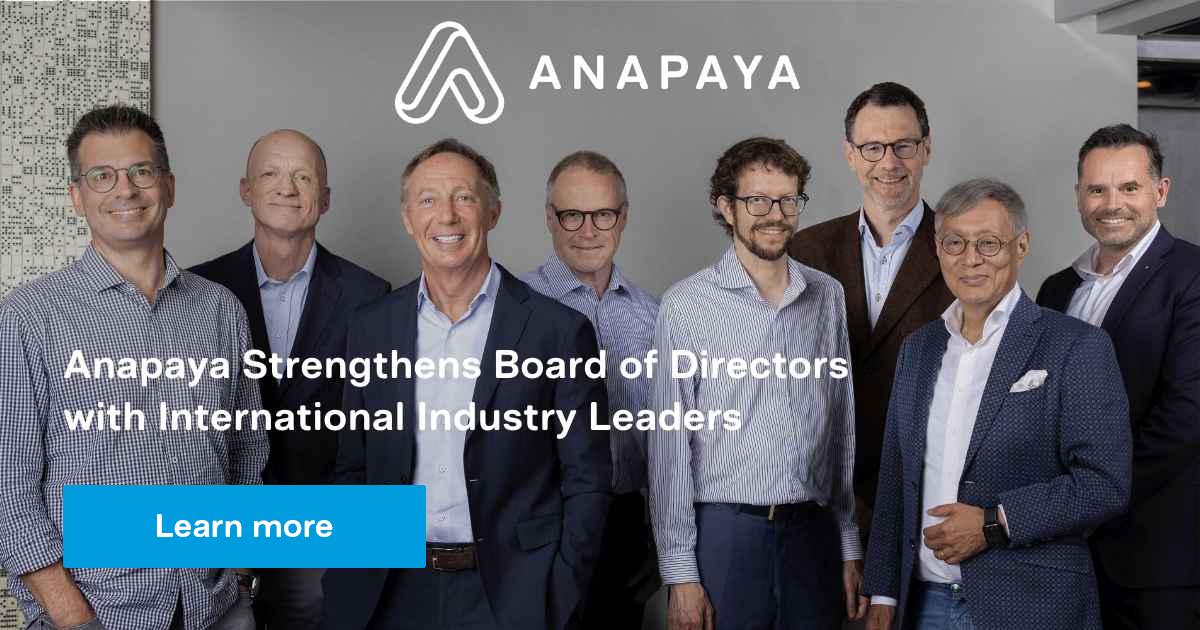 After raising CHF 6.8 million to further develop its SCION-based internet communication solutions, Anapaya is set to expand internationally. With the backing of industry leaders and notable private equity investors, Anapaya will challenge the way organisations connect for a safer, faster, and more resilient online experience.
Zürich, Switzerland - August 6, 2021 – Anapaya, the commercial provider of SCION technology, has strengthened its Board of Directors. Andreas Meyer, Olaf Swantee and Gonpo Tsering have joined David Basin, Peter Müller, Adrian Perrig, and Pascal Rialland to combine their skills in addressing fundamental challenges of one of the most important infrastructure services of the modern world today. Anapaya's solution is upgrading the user experience of internet services with controllable connectivity around the world. It provides the highest resilience, security, and speed on end-to-end connections across the internet.

Left to right: Peter Müller, Olaf Swantee, Pascal Rialland (Chair), Andreas Meyer,
Adrian Perrig, David Basin, Gonpo Tsering, with Anapaya CEO, Martin Bosshardt
Pascal Rialland
Chairman of the Board Pascal Rialland has demonstrated decades of expert leadership. He has acted as the managing director for SFR-Altice and was the CEO of Virgin Mobile France, SAP Francs & Maghreb and Covage. Pascal has worked with well-known visionaries such as Sir Richard Branson, Sir Charles Dunstone, and Patrick Drahi. Having recently been elected again as Chairman of the Board, Pascal brings his leadership to Anapaya in identifying opportunities and guiding the company forward towards achieving its ambitious growth objectives.
Andreas Meyer
Andreas Meyer is an advisor, mentor and board member well-known as CEO at SBB for 13 years. Andreas Meyer brings extensive experience of digital transformation, managerial, and legal aspects to the board. Andreas had worked for global companies like ABB as Legal Counsel and Project Manager, and as general manager for Deutsche Babcock Group and the Deutsche Bahn Group in the energy and mobility business. Andreas' background and understanding of the inner workings of critical infrastructures throughout Europe offer unique insights into future opportunities for the company. His experience has highlighted areas where SCION could perform an essential role to ensure public assets remain operational and secure from cyber attacks. He will further guide Anapaya's impact on critical infrastructure projects where SCION can transform their approach to connectivity.
Olaf Swantee
Olaf Swantee has extensive experience in the telecommunications sector. He was CEO of Sunrise Communications. Prior to that, he was CEO of EE, the UK's No. 1 network. Before EE, Olaf held a number of senior positions at France Telecom (now Orange Group), Hewlett-Packard, and Compaq Computer and Digital Equipment. He is Chairman of Mobilezone, a company listed on the Swiss stock exchange and a non-executive director at Vodafone. Olaf's decision to join the board of Anapaya is guiding the company's Go-to-Market strategy. Validating the fact that the SCION technology is aligned with today's telecommunication industry requirements, Olaf believes that "Anapaya has the potential to revolutionise communications around the world".
Gonpo Tsering
Gonpo Tsering has in-depth global experiences in IT, Marketing, Finance, M&A, and managing large projects. He was on the Executive Board of DKSH for over a decade. Also, he has served as Vice Chairman of Orell Füssli, Chairman of Maurice Lacroix and Bovet. He sits on the board of several companies such as Cysec, the Go AG and Dizmo among others. Gonpo has repeatedly identified promising tech start-ups and accelerated their internationalization for foreign markets. Today, he is a significant private equity investor not only in Europe but also in Asia and Africa and guides Anapaya towards achieving its global business objectives in a profitable and sustainable way.
The existing board members present at the founding of Anapaya will continue to serve the company into the future. David Basin, Peter Müller and Adrian Perrig are all Professors in the Computer Science Department at ETH Zurich, where the concepts for Anapaya were developed. David Basin has served as the Computer Science Department head and founding director of the Zürich Information Security Center. Peter Müller is an expert in developing software that is provably correct and secure. Adrian Perrig has over seventy thousand citations to his name and was an Electrical and Computer Engineering, Public Policy, and Computer Science professor at Carnegie Mellon University.
The members of Anapaya's board all combine their profound expertise and industry experience to compose a well of experience and insight for the company to draw upon. The world has changed faster than expected and with it our requirements for a reliable internet connection. With the foresight of Anapaya's board, the technology company is now creating the internet that meets the needs of society now and in the future.
About Anapaya
Anapaya Systems AG is a Swiss company whose goal is to build an international ecosystem providing SCION-based services for a more reliable, secure and stable networking experience. The office is located at Hardturmstrasse 253, 8005 Zürich, Switzerland and represented by Martin Bosshardt (CEO) and Samuel Hitz (CTO). Recently, Anapaya announced the launch of the Secure Swiss Finance Network (SSFN) with the Swiss National Bank and SIX.
Contact Marketing & Comms: ladines@anapaya.net