The Secure Swiss Finance Network (SSFN) is the new gateway for SIC and euroSIC.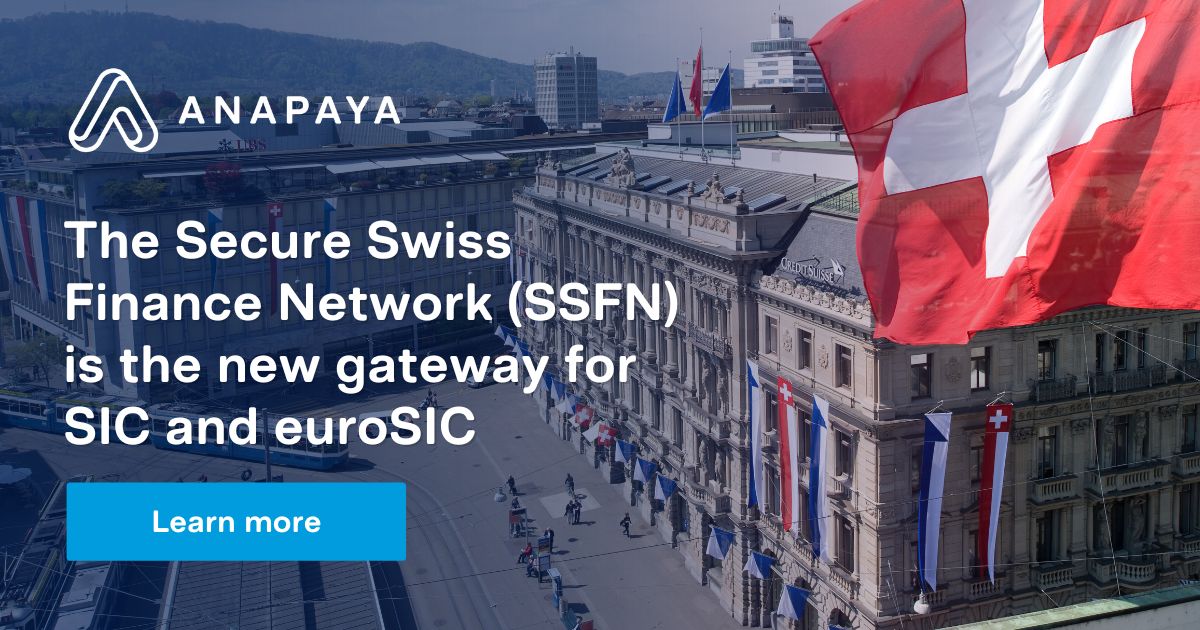 The SSFN, based on the SCiON technology, offers superior flexibility, functionality, and increased cybersecurity for the Swiss finance industry.
The Swiss National Bank (SNB) and financial market infrastructure provider SIX launched the Secure Swiss Finance Network (SSFN) in November 2021 in close collaboration with the telecommunication companies Sunrise, Swisscom and SWITCH, and SCiON software provider, Anapaya Systems.
SSFN is a self-contained network with even greater resilience than the existing communication network, Finance IPNet. SSFN offers superior connectivity and stability which allows for flexible communication with financial market infrastructures (FMIs) among market participants. It protects against major Internet risks such as distributed denial of service (DDoS) attacks, thereby strengthening the cybersecurity of the Financial Center Switzerland ("Finanzplatz Schweiz") as a whole, as declared by Dr. Andréa Maechler of SNB.
The Swiss Interbank Clearing (SIC) system requires secure and stable connections and is one of the most critical financial infrastructures in the industry. As of this month, the Swiss National Bank has begun exclusively using the SSFN to connect to both the SIC and euroSIC systems, demonstrating their leadership and confidence in the network they helped build.
Financial institutions should take action now. An overview of the comparison is presented below: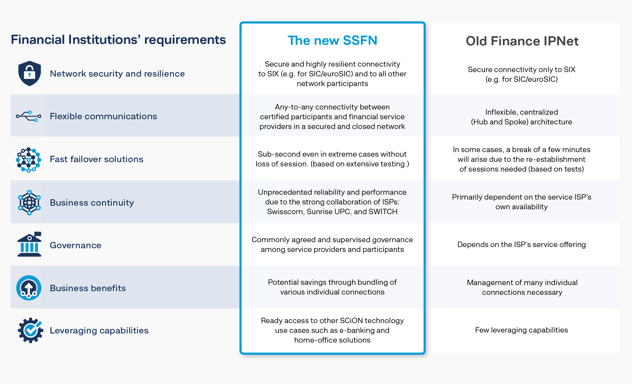 Financial industry specialists have been notified by SIX to begin the migration process early in collaboration with their network infrastructure professionals. There will be no impact on the end-users of business applications since all adjustments will be made at the network level.
The SSFN intends to replace the existing Finance IPNet in the medium term, making all services available through SSFN (e.g. SIC, euroSIC, SECOM, ATM Monitoring). SSFN will initially run in parallel during the transition period.
Together with partners, Anapaya delivers services to enable you to utilize and be part of this revolutionary new network. The SSFN's resilience, reliability, and increased cyber security further reinforce the Swiss financial centre's world-class reputation and openness to innovations in FinTech.
---
Extensive testing under extreme conditions has proven the reliability and resilience of the infrastructure— made possible by the path control and inherent multipathing properties of a SCiON-based network architecture. This level of reliability and resilience is a vast improvement to ensure business continuity for current and future system-relevant use cases and applications not only in the financial sector but also for other critical infrastructures.
Fritz Steinmann, Senior Network and Network Security Architect, SIX